Online Edition Copyright © 2008 EagleRidge Technologies, Inc..
Used with permission.

Editor's Notes: About This 2008 Online Edition of
John Trotwood Moore's Songs & Stories from Tennessee
Songs and Stories from Tennessee is a work of fiction from the Tennessee State Librarian and Archivist John Trotwood Moore. The book reflects the people, customs, and civilization of Old Tennessee, probably to the extent that your reflection would come back to you if you looked into a quiet pond. It is definitely not politically correct: the 'n' word is used, among others. [I have used the asterisk (*) to replace all but the first letter of the most offensive words used. -- Editor] Also, whenever some of the characters speak, they use dialect. It should not be too difficult to read. The author recreated their speech quite phonetically.
The stories and poems show a sanitized picture of the days of slavery and the post-Civil War era in the South. However, it seemed to be worth preserving because it does reflect history, not history as we would have liked history to have been, but history, to an extent, as it was imagined at the time.
In the nineteenth century Tennessee was a land of farmers, politicians, soldiers, small business men, horsemen, gamblers, and their families and servants of various standings. The author, John Trotwood Moore, in his own words, because no one else came forward to tell the story, has only attempted to do what a greater one should have done.
Those who may be offended by the politically incorrect should stop reading this book now. We hope the rest of you will accept this online edition of Moore's Songs and Stories from Tennessee in the spirit in which it is presented: a reflection of the people and times of Old Tennessee.
For a biography of the author, see the Tennessee Encyclopedia of History and Culture.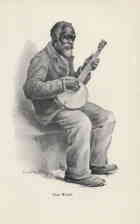 Conception, typing, scanning, editing: G. Anne Sloan.
Database design, programming, web development: Crystal Sloan.
Web hosting provided by EagleRidge Technologies, Inc..
This 2008 online edition is based on the 1902 edition published by HENRY T.COATES & CO., PHILADELPHIA.
// include book's navbar include("moore-songs-stories-tn_navbar1.inc"); // show special copyright info such as Creative Commons license if applicable if ($copyrexists) { include($copyr); } ?> // include clustrmap include("clustrmaps.inc"); ?>